I love these linky parties!
As the end of the school year approaches, I have mixed feelings. This was my first year teaching and though it was wonderful, I am so ready for a break! Here are my 3 & 3 from this year.
The Great...
Actually having a classroom I can call mine (though I do share it with my coworker) with my very own name plate above the door, instead of wondering if and where I'll end up subbing each day.

Adding the 7 Habits of Highly Effective People Signature Training to my resume. The district graciously had everyone trained, and we start implementing The Leader In Me for the kids next year. I love the responsibility and self-awareness this program brings the students! I can't wait to dive in!

The wonderful students I worked with... although some of them made me feel a little bonkers, I love each one dearly for their kind hearts and funny comments. They taught me so much this year!
The Not-So-Great...
Having to share a tiny closet of a classroom... I really love working with the woman I share the room with, but it's just not enough space for all the materials, the extra shelving we had to add to store them, 2 teachers, and up to 10 students at a time!

Only having 1 teacher computer in our room... This was a challenge when we both needed/had motivation to work on something.

The time it took to finally get into a planning & record keeping routine! I feel like I just started to really get it down to where I'm not all-consumed by my part-time teaching job, and it's almost summer... there are just 18 days of school left for us!!! Weeee!! :)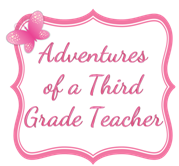 Thanks to Amber at Adventures of a Third Grade Teacher for hosting this Linky Party! She is also hosting a sale at her Teacher's Notebook store AND a giveaway!! You should totally check it out! :)