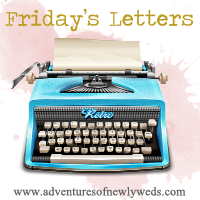 Dear Hubby, Good luck on your agility test at the Fire Dept. tomorrow! And thank you for cleaning up the yard this week!
Dear Resume, Please work your way up to the top of the "yes" list at every district I've applied to thus far. I'm counting on you!
Dear House, Go clean yourself. I'm done.
Dear Pop, Have you always been this good? I knew I stopped drinking you for a reason…
Dear Elizabeth, I had fun playing, reading, chasing you around yesterday! You're so cute and I love it when you try to say my name. Thank you for telling me there was a bug on my foot when we were playing outside with the hose yesterday evening. I'm glad you share my dislike for bugs. I might need to stop calling you Baby soon… you're getting so big and you're already so smart! I guess we know who you take after… jk, I'm not that conceited! ;)


Dear Ice Cream, Why must you be so bad for me?! :(


Dear VBS, Please go smoothly! As one of the game coordinators, I'm mildly concerned that we're still looking for game supplies… looks like I'll be shopping this weekend!
Dear Bloggy Friends,
Come back tomorrow to enter my VERY FIRST GIVEAWAY!! I'm celebrating 75 followers and I'm excited. :)
Thanks, hugs and kisses! :)