Now it's time to link up with
Ashley
for Sunday Social... t
his week's topic is TV!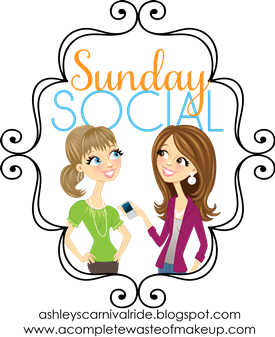 What is your favorite TV show of the past?
My fave old TV shows are... I Love Lucy, Bewitched, I Dream of Jeanie, and Dick Van Dyke. I was a Nick-a-Night kid in the 90s... lol.
If you're talking more recent TV shows of the past, I love Gilmore Girls & Friends.
What is your current favorite TV show?
I can't pick favorites, so here are my top 3: Parenthood, Modern Family & New Girl!
Which reality show would you NEVER do?
Fear Factor!! I can't even WATCH that stuff… Yuck!!
Which reality show would you LOVE to do?
I don't know that I'd love to be on any reality show, but it'd have to be something not scary or gross, and I wouldn't want to do a dating show, partly because I'm married and partly because I think those are hilarious to watch. So I guess maybe Minute to Win It or Big Brother... I don't think I'd make it very far, but it'd be fun I guess.
What is the TV personality/character that you feel is most like you?
Hhmmm... That's tough! I honestly don't know... all I can think of are characters with blonde hair, haha. I think I will ask some friends, becuase my best guess is a little bit of Jess from New Girl with the quirkyness and a little bit of Lorelai & Rory Gilmore with the crazy and the obsession with school & books...
Which TV character would you want to date?
Hmm… This is a tough one! Probably Logan Huntzberger from Gilmore Girls or Jim Halpert from The Office... maybe Luke Danes (Gilmore Girls) if I was older… lol.