We got back from up north a couple hours ago, and I'm taking a break from the unpacking and putting away before I make some dinner. :)
Our trip was super fun!! Except for the monsterous migrane I got Saturday afternoon...
IT. WAS. AWFUL.
I'm pretty sure it was a combo of too much sun, too little sleep, contacts that aren't technically my true perscription any more, and not enough water. I got sick several times, and ended up laying down to rest/sleep in our tent for like 6 hours. It was funny, because I woke up and was suddenly better. And starving. J happened to come back to check on me, and I was like, "Hey babe, I'm better now! What time is it? I'm starving..." Luckily, everyone was still up and we hung out for a few more hours by the fire. :)
Besides the whole migrane issue, the weekend was fun. We stayed with two other couples in the middle of nowhere at our friend Miguel's parent's cabin. It's an old-school hunting cabin... with no electricity or running water. There was a toilet though. You just had to turn on a spicket to fill up the tank so it would flush. The sleeping area is a little cramped and spooky so we slept in our tent.
I'm pretty proud of myself for roughing it. :)
J, our friend Heather, and I had a fun drive up Friday night. We had fun times around the campfire just hanging out and making s'mores. On Saturday, we took a trip to the next town and went on a lazy river ride. It was such a fun experience! Everyone got their own tube, and we also had a tube for our cooler. :) And we just floated down the river. We stopped a few times to stretch and hang out, so the trip took us around 4 or 5 hours.
Following the tubing adventure came the migrane. J was so sweet and he took very good care of me. I feel like I owe him because he rubbed my back for so long.. haha. But we did have a nice morning today just hanging around while we cleaned up. I got to read a lot, too, so that was great. Catching Fire is soooo good!! :)
*******************
Now it's time to link up with
Ashley
for a fashion & style edition of Sunday Social...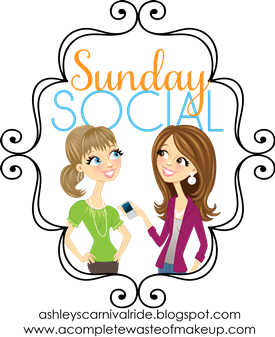 What is your favorite store to shop at?
I love shopping pretty much anywhere and for pretty much everything... but for clothes, I usually go to H&M, Forever 21, American Eagle, Target and Old Navy.
DSW, Target, Aldo, and department stores for shoes. I love Born, Jessica Simpson and Coach shoes.
Mary Kay & Sephora for makeup.
If you could afford anything and everything, which designer brand would you covet?
I try not to tempt myself, so, honestly, I try not to look at things I would never be able to afford... lol. Because I honestly don't know, and I'm not one to be brand-crazy, I'm going to say that I'd shop anywhere everywhere for things that are cute and flattering.
I do know my answer for handbags though... I love Coach! Hands down, my favorite designer for handbags. :)
Must have closet staple?
A great pair of dark colored jeans, a classic feminine top, and a fitted cardi. Paired with a cute pair of flats and some fun, classy jewelry.
Favorite kind of shoes? (brand or type)
I prefer flats... Babydoll, round toe, square toe, pointy toe, strappy sandles. As long as they're cute and don't hurt my feet after wearing them for a few hours. :)
This is mostly because my hubby is short (haha), but also because I've never owned a pair of heels that I've not hated wearing because they made my feet miserable. While I love the look of heels, I'm waayyy to whiny and picky about how comfortable my shoes are.
Best clothing deal you've ever gotten? (sale or amazing find)
My strapless black dress from H&M. It was only $25, fits perfectly, and came with a cute leopard print belt that it can be worn with or without.
My pair of Coach Cecile flats. They're the signature brown cloth, with a patent leather toe & heel. Super cute AND comfortable. They were priced around $130, and were on sale for about $65. The department store was also doing a special promo where all shoes were an additional 20% off if you bought 1 pair. So, they cost me a grand total of around $53. And I had a gift card. :)
Style you'd love to try?
I'd like to try the hippie-chic look, or just something more bold and unique. I love both looks on others and on the hanger, but I never feel like I can pull them off!